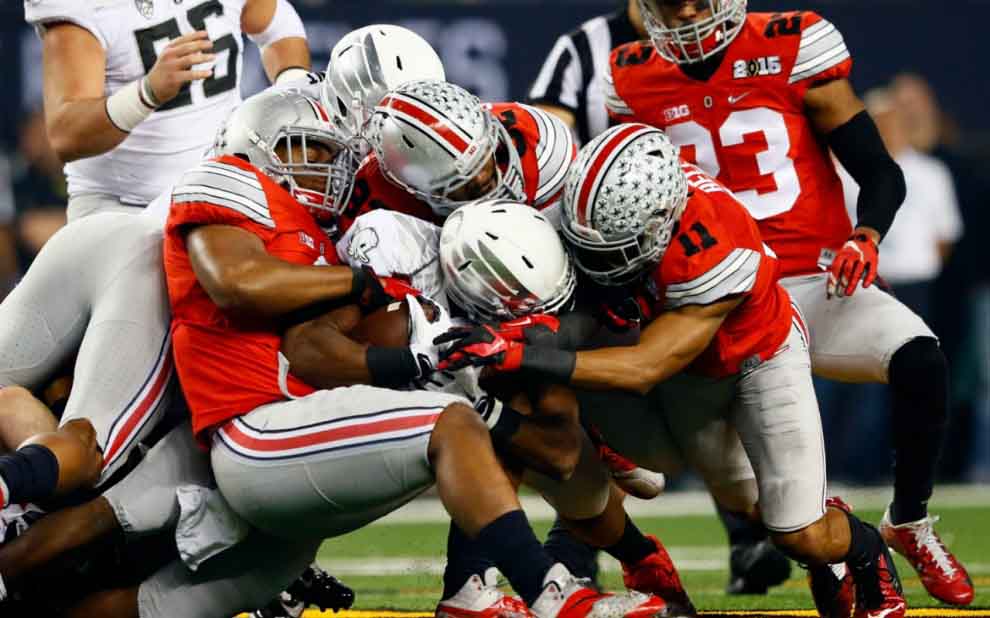 College Football Conferences Biggest 2017 Game
ACC: Florida State at Clemson, Nov. 11
The conference favorites vs. the defending national champs in a growing rivalry. This and Bama-FSU are the only two scheduled 2017 games between head coaches who've won national titles. Easy choice.
Big 12: Oklahoma at Oklahoma State, Nov. 4
Almost picked Oklahoma-Texas, because that has new coaches all over and bigger stories at the moment, UT might be almost as good as OSU anyway, and OU-OSU could easily have a rematch in the dumb, new Big 12 Championship. Picking Bedlam feels a little obligatory, but that's fine.
Big Ten: Penn State at Ohio State, Oct. 28
Last year's biggest game according to public interest was Michigan-Ohio State, and that could be the case in just about any year. But if biggest factors in season implications, OSU vs. the defending Big Ten champs in a rare revenge game for both teams (PSU won the game and the division, but OSU made the Playoff instead) might be the biggest game of the year, anywhere.
Pac-12: Washington at Stanford, Nov. 10
USC is the conference favorite, but the Trojans' hardest division game might be … at Colorado? The better regular season competition looks like it'll be in the North, where last year, UW became the first non-Oregon/Stanford school to win a Pac-12 Championship Game. This was the biggest Friday game of last year, and could be again.
SEC: Alabama at Auburn, Nov. 25
Though Auburn might be the country's hardest team to predict from year to year, it feels like this is a season when we all agree the Tigers will be good. LSU-Bama is also an option, if you prefer the other Tigers we often agree will be good.
American: USF at UCF, Nov. 24
Charlie Strong's Bulls will be the New Year's Six favorites (though Memphis might be the best team), but that schedule is a little breezy. Houston, Temple, or Tulsa vs. USF could be the game, but those are all in Tampa, and two are under new head coaches. A road rivalry game against a rapidly improving UCF looks like the hardest thing on USF's whole schedule.
Conference USA: MTSU at WKU, Nov. 17
Any combination of these two teams, Louisiana Tech, and Southern Miss could be the choice. This one includes the conference power Hilltoppers, is a division game, and might be the highest-scoring game of the year.
MAC: Toledo at NIU or Toledo at WMU
The Rockets have been the MAC's steadiest team, even though NIU had the local dynasty and WMU is the defending champ. The Huskies have slipped for four years in a row, and the Broncos are replacing a lot more than just P.J. Fleck, so pick either game.
Mountain West: Boise State at Colorado State, Nov. 11
Most would pick Wyoming-Boise State, because the Cowboys won the division last year and return QB Josh Allen, whom we all think the NFL will like. But let's go with Bill C and his numbers, which love CSU this year.
Sun Belt: Troy at Arkansas State, Dec. 2
Appalachian State is probably the conference favorite, but App State doesn't play either of these teams. Appalachian State is probably the conference favorite because App State doesn't play either of these teams.
Independents: Georgia vs. Notre Dame, Sept. 9
A couple other ND games or BYU-LSU could be the pick, but the ticket market's suggesting this novel matchup (they've played once, in 1980's Sugar Bowl) is bigger.
Out-of-conference: Either CMU-Kansas or Alabama-Florida State
I just can't decide.
FCS: North Dakota State vs. South Dakota State, Nov. 4
James Madison halted NDSU's five-year dynasty, but the Bison return a ton, and their biggest rivals are loaded on offense.
Source : www.sbnation.com